The Brighton Has that Wow Factor
Posted:
When you walk inside a model home most people look for the wow factor, says the Naples Daily News; the one thing that makes the house stand out from its competition.
Melissa Allen, senior interior designer at Romanza Interior Design, said the master wing is her favorite part of the house.
"I just like the drama of all the dark wood with the gray and how romantic it feels. It's such a simple design, but with all the added features and mix with the silver and gold and white linens it just reads really well."
Realtor Teri Speach also points out the master suite. She loves the bathroom with its 12-foot-long his and her showerheads and the separate his and her toilets tucked away behind separate doors. Then there is the closet that is as big as another bedroom. And it goes without saying how appealing that is with buyers.
Aside from the spacious and well thought out master suite, the home provides abundant storage and organization.
On the opposite side of the home are three guest bedrooms, all with their own bathrooms and walk-in closets. Florida homes have no basements or much attic storage, and Allen says storage is what people want. That's why the hallway between the three guest bedrooms has one wall dedicated to a built-in unit, complete with a counter, drawers, shelves and areas for a dog bed and dog crate.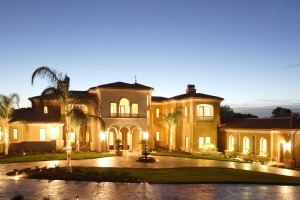 "The whole theme behind that is most of our clients have dogs and they never have a place to put their dog stuff," Allen said. But its use goes beyond dogs. "A lot of our clients have grandchildren and they are wrapping gifts," she continued. "There is a place to wrap gifts. It was just an all-around cutting center, plug in phone, storage, place to do things that you never really have a place to do."
The Brighton is also full of innovative designs that are different from other models. For example, there are two oscillating fans on a ceiling fan in a guest bedroom, a refrigerator hidden from sight behind cabinet doors and screens that come down at a push of a button to screen in a portion of the lanai. Yet the biggest difference might be the doors that open up to a 34-foot space between the family room and the pool and lanai.
The four-bedroom, plus den, five-and-a-half-bathroom house with its four-car garage has 6,326 square feet of space under air. And the completely furnished model sells for $4,295,000.