Antigua Homes Have Flawless Attention to Detail
Posted:
Attention to detail makes the difference when you're looking for a home. And Antigua, the newest model by Florida Lifestyle Homes at Quail West Golf & Country Club, is the crème de la crème of home sites, according to this Naples Daily News article.
"This home reflects what I would call a 'multidimensional' approach to building," said Bill Ennen, president and founder of Florida Lifestyle Homes. "Attention is given to the flow of the space within the home, the structure and beauty of the walls that surround the living spaces, the lifestyle amenities within each room, and, of course to the beauty and practicality of the flooring. Florida Lifestyle Homes also puts an emphasis on the details of the ceiling above, creating beauty seen from every angle."
Ron Vandenack, director of sales for Florida Lifestyle Homes, noted that one of the unique treatments that repeatedly draws praise from agents is the use of suspended beams set into a recessed tray ceiling in both the great room and the kitchen.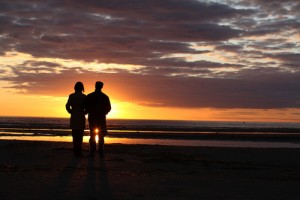 "Suspending the beams, instead of placing them flush against the ceiling, adds depth and visual appeal," Vandenack said. "It gives special definition to the space. This attention to detail is also displayed in other areas of the Antigua."
The outdoor living area features a 1,636-square-foot lanai that offers areas for entertaining, dining and conversation — and is covered by a tongue-and-groove cypress wood coffered ceiling.
Every Florida home needs a good pool and these homes have a custom pool complete with a stucco pearl plaster finish, tile inlay and a raised spa with a bubbler fountain and spillover.
"Attention to detail is not only evidenced in the architectural features but also in the choice of materials, the selection of Kohler fixtures, the choice of Viking appliances, the extensive use of custom cabinetry, and the electronics and security features," Vandenack said. "Starting at the entryway framed in Coronado Italian villa stone through the custom steel and impact glass front door and throughout the home. Every feature reflects Florida Lifestyle Homes' care and craftsmanship."
To view one of these flawless homes, contact our offices today.