How to Get the Most Out of your Master Bedroom
Posted:
What is the first thing that pops into your mind when you think of your master bedroom?
Do you think of a place to study, work, pay bills, or do you think of a place to relax and get away from the hustle and bustle?
Your master bedroom should be a retreat so you don't end up feeling MORE stressed by the end of a long day.
Here are some tips from the Fort Myers News-Press to help you accomplish a calm and serene sleep space:
On the bright side, interior designer Brian Patrick Flynn says, you have plenty of decorating freedom. "Since bedrooms are all about self-expression and comforts, you can break the rules as much as you want," he says.
Say it With Me Now: Calm Walls
Betsy Burnham of Burnham Design advises sticking to a soothing palette of ivory and white, evoking the feel of a luxury hotel room. "You can layer color into that if you want to," she says.
If you're into deeper colors, Brian Patrick Flynn, founder of Flynnside Out Productions, suggests navy blues or black-brown tones.
And if you really want to go bold, Molly Luetkemeyer of M. Design Interiors, recommends using a single pattern throughout your bedroom.
"Even a busy pattern won't feel too chaotic if you're consistent" in using it throughout the room, she says.
Go Big or Go Home
Think your medium-size or small bedroom can't handle a spacious four-poster bed? Think again because Burnham says a four poster bed is "a statement piece" that brings a lot of style into your space.
Flynn agrees, as long as the bedroom isn't extremely small and the nightstands are in proportion. One of his pet peeves is a large bed flanked by tiny tables, which can make the tables look like they belong in a dollhouse.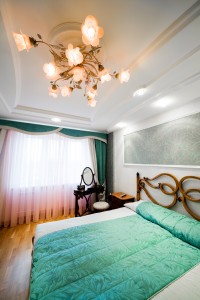 Keep it Soft
Upholstered beds and headboards and even upholstery fabric used on walls is the next big design trend.
"It's this idea that you're being completely cocooned and buffered from the world," Luetkemeyer says. For some clients, she has also upholstered the inside of armoires or other storage pieces to create a complete sense of softness.
Keep your window treatments soft as well. "I usually layer blackout shades with custom, pleated drapery panels," Flynn says. "This softens the hard edges of the room, helps with noise control and also allows the homeowners to sleep in as late as they want."
Try adding a few sharper, clearer lines to make the look less feminine. Choose sleek, mid-century vintage lamps for either side of an upholstered bed. Or opt for a dresser with simple, clean lines rather than a piece that's ornate and curvy.
Alternative Sources of Lighting
Chandeliers are often used in dining rooms and entryways to add glamour and drama. But Flynn says they work just as well in bedrooms.
"I often install pendant lights over nightstands instead of using table lamps," he says, "especially if the headboard is tall and dramatic.
"Whenever possible, I try to use sculptural pendants which introduce interesting shapes to the room and I always, 100 percent of the time, install them on dimmers."