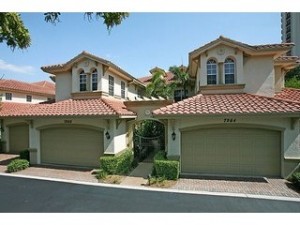 Looking for an attached villa community in the south-central portion of Pelican Bay? Then you're looking for Villa Coronado at Pelican Bay directly in front of Cap Ferrat off Pelican Bay Boulevard. Units were completed in the late 1990's and are either 2,134 square feet or 2,694 square feet in size. Units in Villa Coronado are rarely available, so you will want to do a Pelican Bay Property Search to stay on the edge of what's happening in this community.
COMMUNITY AMENITIES:
•             Tennis Court
•             Pool
•             Easy Access to Tram to Beach
•             Access to Private Golf Clubs near the Community
Composed of Mediterranean style villas, this community offers tranquil views of the golf course, lush greens and community landscape. Villa Coronado property owners are allowed two dogs with no weight limits. However, dogs must not be taller than 29 inches at the shoulder. Owners are permitted to lease their units four times per year with 90 day minimum terms.
Villa Coronado boasts fantastic living simply by being a part of Pelican Bay, the cultural hub of Naples. Naples is THE place for pristine beaches along the Gulf of Mexico, state of the art golfing, phenomenal shopping at the Waterside Shops and spectacular evenings at the Philharmonic. All of this with nature constantly looking over your shoulder.
Schools for the children of Villa Coronado residents are just as fabulous. To view a full list, reviews and information on schools in Pelican Bay visit USA.com. Your children will love growing up in Pelican Bay. Who wouldn't love attending a great school, then hanging with friends at the beach or taking up after school tennis or golf?
To view floor plans of different Villa Coronado units, see Slide Share. For more information on all things Pelican Bay, visit our blog for exciting and up to date information. image by local MLS
Your Pelican Bay Real Estate Team
Domain Realty is your key to smart buying and selling in the Pelican Bay real estate market. We know all the details from the most exclusive communities and subdivisions around the area. Whether you're looking for a gated golf club community or a luxury waterfront home, we can help you find the right home at the right price or help you sell your Pelican Bay real estate quickly and efficiently. Call us today to learn how we can make you work home buying or selling dreams a reality. 239-898-5329 JesseMcGreevy@gmail.com