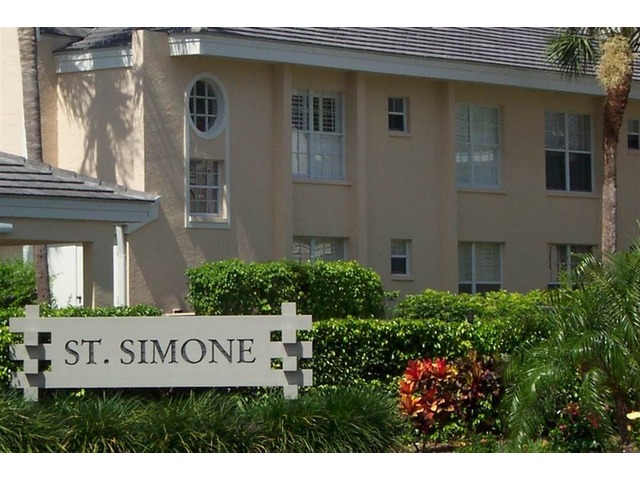 St. Simone
In the southern portion of Pelican Bay off Crayton Road is a low rise condominium subdivision by the name of St. Simone. There are 36 units within three buildings here, built in 1990. St. Simone offers either 1,306, 1,423 or 1,506 square feet of living space. The only exception to this square footage rule, is if a lanai has been converted to living space. Certainly, some people love the idea of converting the lanai to add square footage. However, others, especially those coming from areas where you can't enjoy nature as easily year round and are craving outside space, are usually displeased with these kinds of transformations.
St. Simone at Pelican Bay, Willow Brook and Glen Cove at Pelican Bay all have very similar floor plans with 12 units per building, six on top and six on the bottom. Units here back up next to each other so that half receive views of the pool and garden space while the other half obtain views of the parking lot. If a unit is described as having a "none" or "landscaped" view, then it probably faces the parking lot. However, you may prefer that in the fact that it will reflect a more favorable price. Pool views will cost a bit more.
COMMUNITY AMENITIES:
•             Bike and Jog Path
•             Private Beach Pavilion
•             Community Pool
•             Exercise Room
•             Beach Access and More
This condominium has the charm of French architecture. Currently, listed units are going for between $310,000 and $449,000. To observe and become familiar with one of the floor plans, check out SlideShare.
Pelican Bay Property Search is the place to go for all information regarding listings in the various communities throughout the Pelican Bay neighborhood of Naples. Whether, it's the ease of condo life, the charm of villa life or the space of single family detached housing you're looking for, Pelican Bay communities have it. image by local MLS
Your Bonita Springs Real Estate Professional
Our passion is real estate; our goals are your desires. Let us help you buy, sell or invest anywhere in Lee County Florida. We can help you find a home in Bonita Springs, or any of the surrounding communities and cities such as Fort Myers and Estero. Call us today for information or visit our website for all the current MLS listings in our area.