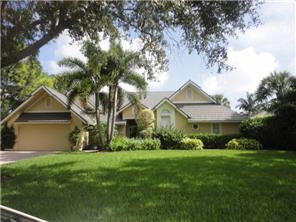 Oakmont is a single family home community in Pelican Bay. It is located in the north central portion of Pelican Bay off Oakmont Parkway and Green Tree Drive. Oakmont is comprised of 133 homes with construction on the first properties completing in 1987. Construction on the homes in this community continued through the 90s. Some of the homes are still in their original state and could use updating but many of them have been completely remodeled and/or have had additions which show like brand new construction. A few Oakmont homes have lake vies while the rest enjoy larger than normal lot sizes due to the Tamiami Trail buffer. Most of these homes do back up to each other but offer tons of privacy due to fenced back yards. The typical home here ranges from 1,830 to 3,000 square feet of living area.
The master association fee is just over $1000 a year but there are no other additional mandatory fees. A nominal annual fee is optional if you wish to join the Oakmont neighborhood association.
COMMUNITY AMENITIES:
– All Pelican Bay homeowner amenities
The sought after Oakmont neighborhood is honored for its enhanced preservation of native vegetation and environmentally sensitive Xeriscaping principles within its secluded enclave. This means the landscaping is done in ways that reduce or eliminate the need for supplemental water from irrigation.
Some homes in Oakmont are on Oakmont Lake while others are interspersed throughout or back up to U.S. 41. The ones backing up to U.S. 41, however, are buffered by trees for noise elimination.
Oakmont is considered a sister neighborhood to Pelican Bay Woods which is considered a sister neighborhood to Pinecrest. Pelican Bay Woods and Pinecrest are the original single family developments in Pelican Bay.
As a resident you will come to enjoy sugary sand beaches, upscale shopping, fine dining, and cultural events at Artis.
Your Pelican Bay Real Estate Team
Domain Realty is your key to smart buying and selling in the Pelican Bay real estate market. We know all the details from the most exclusive communities and subdivisions around the area. Whether you're looking for a gated golf club community or a luxury waterfront home, we can help you find the right home at the right price or help you sell your Pelican Bay real estate quickly and efficiently. Call us today to learn how we can make you work home buying or selling dreams a reality. 239-898-5329JesseMcGreevy@gmail.com