Oak Lake Sanctuary
Posted: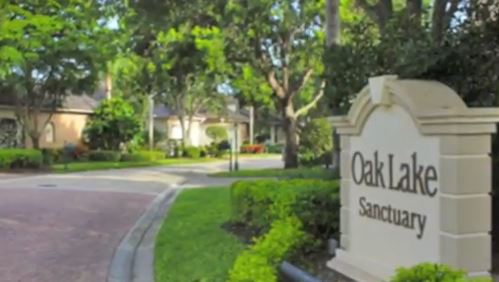 In Central Pelican Bay on Turtle Ct. just off Gulf Park Drive is a detached villa subdivision by the name of Oak Lake Sanctuary. This exclusive subdivision features only 22 homes built between 1991 and 1996. Seven of these homes have lake views, five of them have preserve views and ten of the homes are courtyard style homes.
The villas range in size from a two bedroom plus den and 2.5 bathrooms within 1,807 square feet to four bedrooms plus den and four bathrooms and two half bathrooms within 3,902 square feet of air conditioned living space. All villas have an attached two car garage.
COMMUNITY AMENITIES:
•             Bike and Jogging Path
•             Tennis Courts
Oak Lake Sanctuary property owners are permitted to rent their homes three times a year with 30 day minimum leases making owning property here ideal as an investment strategy. Owners are also permitted to keep one pet up to 50 pounds.
Pelican Bay residents are part of a prestigious, self contained community in Naples' that has 65 distinct neighborhoods within it. This area offers private beach access, two elevated boardwalks that span a conservation area of mangroves and estuaries, fine dining and shopping at the Waterside shops and so much more!
Pelican Bay villas such as those at Oak Lake Sanctuary, are just one of the many kinds of residences in Pelican Bay. There is no clear cut rule or standard as to the type of dwelling that can be constructed in Pelican Bay, therefore there is an eclectic collection of dwellings that line wide avenues and boulevards. Some communities have mixtures of residences while some communities only have one sort. The one thing that is common among them, no matter what however, is that they are all of the upmost quality and luxury. Besides the villas, you'll also find single family homes and low, mid and high rise condos.
Your Pelican Bay Real Estate Team
Domain Realty is your key to smart buying and selling in the Pelican Bay real estate market. We know all the details from the most exclusive communities and subdivisions around the area. Whether you're looking for a gated golf club community or a luxury waterfront home, we can help you find the right home at the right price or help you sell your Pelican Bay real estate quickly and efficiently. Call us today to learn how we can make you work home buying or selling dreams a reality. 239-898-5329JesseMcGreevy@gmail.com