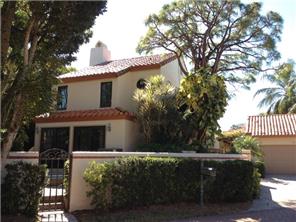 There is a mixed subdivision in Pelican Bay of four low rise condominiums and 17 attached and detached villas by the name of Lugano. Construction in 1987 brought 15 units featuring golf course and lake views, and 15 with golf course, lake and pool views. 1988 brought 12 units with golf course, lake and pool views and 12 with golf course views. These four groups are broken into Lugano I, Lugano II, Lugano III and Lugano IV respectively. Between 1985 and 1989 17 villas were built which overlook either a beautiful lake or landscaped areas. Some of the villas have their own private pools.
COMMUNITY AMENITIES:
-community pool
-beach access
-BBQ and picnic areas
-bike and jog path
-private membership
-canoe launch park
-tennis courts
The four condominium buildings offer between 1,330 to 2,450 square feet of living space. The villas are all unique with different floor plans and finishes to meet the varying needs of owners. The villas offer the style of single family living with a convenience of a condo. The villas are either three bedroom or three bedroom plus den and the condos are either two bedroom or two bedroom plus den.
Owners are permitted to have one dog OR cat up to 20 pounds but renters are not permitted to have pets.
Come check out this eclectic community in the private neighborhood of Pelican Bay. Pelican Bay is just north of Naples Proper, stretching from Seagate Drive to Vanderbuilt Beach Road to Tamiami Trail to the Gulf of Mexico.
Pelican Bay is also host to three premiere hotels including the Ritz Carlton. Other perks and areas of interest in Pelican Bay include the famed Waterside Shops, 570 acres of conservation area with Florida mangroves, and 40 acres of parks and nature trails. So, come live the good life in Pelican Bay!
Your Pelican Bay Real Estate Team
Domain Realty is your key to smart buying and selling in the Pelican Bay real estate market. We know all the details from the most exclusive communities and subdivisions around the area. Whether you're looking for a gated golf club community or a luxury waterfront home, we can help you find the right home at the right price or help you sell your Pelican Bay real estate quickly and efficiently. Call us today to learn how we can make you work home buying or selling dreams a reality. 239-898-5329JesseMcGreevy@gmail.com